Product Description
Metalcraft Industries offers two solutions for mounting a pole to a cement pad.
Our most popular size for poles for sign installs would be the 3" round pole and whether the item is fluted or smooth it will work with the pad mount/sleeve items we offer. (POLES ARE ORDERED SEPARATELY)
Adding either plate style to your order of your poles can be done online if you are ordering poles under 94". (Poles longer than 94" will need to be quoted for freight limitations.)
Add the number of cement pad mount styles for the number of poles you require to your pole order and we will weld the plates to your poles or add the number of sleeves with hardware as requested.
Please take a look at the images as well as the drawings we have available to illustrate the item further.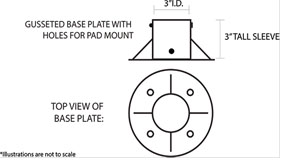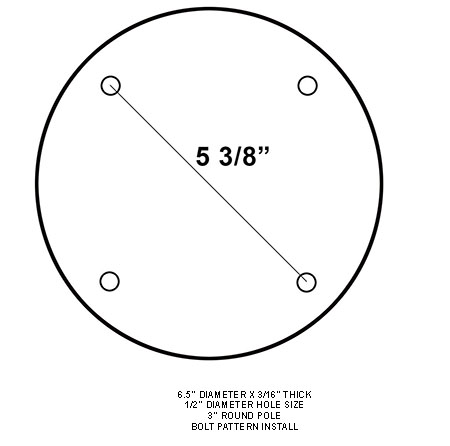 The pad mount is welded to the bottom of the pole whereas the pad sleeve is made as a separate piece with a sleeve to accept the pole.
If made separate, it simply thru-bolts to the pole.
Each of these cement-pad installs is best suited to include a decorative cover/base to cover the install at the foot of the pole where the bolts are attached to the pole.
Metalcraft Industries has a large assortment of decorative bases to choose from, they can be found here-
If you require a pole mount for a larger or smaller pole size or if you are working with square poles or a square post, please contact us for a quote, we will be glad to review the request with you.
Product Videos
Custom Field
Product Reviews