Metalcraft Industries offers a complete line-up of

banner hanging hardware and kits

for installing your marketing banner message.
The simplicity of the lightweight aluminum mounts and easy to use stainless steel Quick Release bands make street pole banner installs a breeze.
Whether you plan to display your marketing message on a street pole, light pole, column mount, in ground, or upon a flat wall, Metalcraft Industries has the banner hardware kit for your project.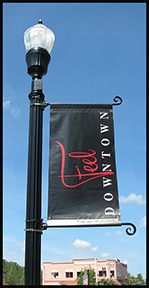 Our banner hardware bracket kits come complete with aluminum mounts offered in either Powder Coat Satin Black or Factory Mill finish, same with our easy to use Quick release bands.
The rods to hang your banner are also available in either fiberglass or solid aluminum.
We also have Ball finial/caps to add to the end of the banner rod, to complete the finished look of your banner display.
Folks often ask about the difference in the material for the rods and the price difference.
The fiberglass rods are economical and can be used for most banner hanging displays.
The fiberglass banner rod material has flex and will hold up in weather conditions found in most regions of the country.
(For larger wall/column mount banners measuring 30" + the fiberglass rod is neither available nor recommended.)
Recommended length of banners with any Metalcraft Banner bracket kit should not exceed 36".
Aluminum banner rods will tend to bend in a high wind condition rather than snap (fiberglass) and can be a tell-tale sign of maintenance on the banner display before an actual failure of the install.
The recommended length of banners with any Metalcraft Banner bracket kit should not exceed 36".
We provide the additional hardware in our kits to keep your banner secure to the mounts, this includes tie straps and clevis or EZ Fasten pins and end caps to complete the look of your banner display.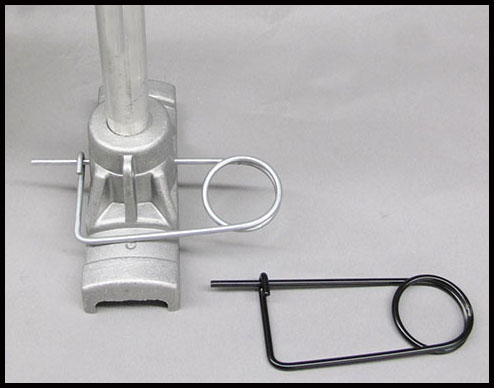 The quick release bands are also included in each pole mount style. These steel bands will secure the mount tightly to the round pole. If you are applying the mounts to a square pole we also have heavy duty bands that can be used to secure the mount and provide a secure fit to the corners of a square pole fixture. (Please be sure to note a heavy duty banding tool is required to install these heavy duty bands). We offer the heavy duty banding tool as a courtesy or for purchase, (a deposit is required for use and a refund of your full deposit is made upon return of the tool in good condition).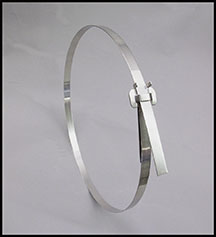 Outdoor banner advertising and indoor banners can be a great way to display a banner message. Banners provide a way to gain the view of a large audience, passersby, commuting traffic, there are many opportunities available to relay your message or advertise upcoming events.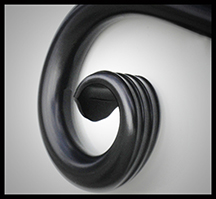 Metalcraft has expanded its banner hardware kit accessory line to include the Ornamental banner hardware kit for both pole and flat mount display areas. The Ornamental banner hardware kit adds a signature "curl" to the end of a solid aluminum banner arm/rod and is powder coated in our Satin Black finish for an upscale presentation of your banner message.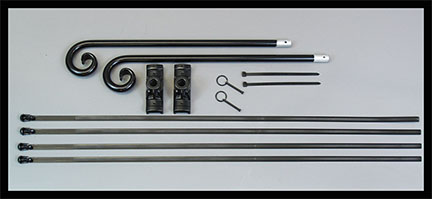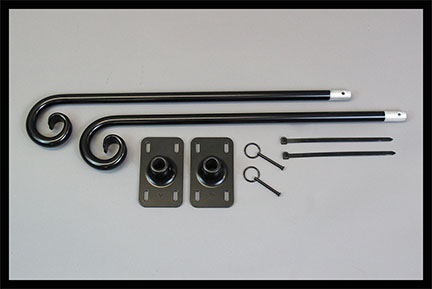 Metalcraft premium banner hardware kits and accessories along with feather flag hardware can be found on our website and priced by choosing your options in regards to mount style, color, and rod size, these options once chosen will provide a price for your review.
Choosing the quantity needed for your project and calculating a shipping estimate are both available on our website to fully quote your project.
Metalcraft has over twenty years in the sign supply industry, providing premium materials and components for all of our items. The illustrated installation instructions will guide you through set up and our knowledgeable staff can assist in any question you may have regarding our products.