Posted by kristin on February 26, 2016
The variety of sign frames available to real estate agents is vast and varied. When looking for something that is of good quality and easy to use Metalcraft Industries offers standard sized items as well as additional sizes and top or bottom riders.
At Metalcraft Industries we pride ourselves in fabricating solid, durable dependable sign frames day in and day out. We also take pride in our ability to customize a frame for you whether it is in size or color.
Maybe you have a routed shape for your sign you would like to add to a frame to make it stand out and catch the attention of a possible opportunity to make a sale.
The item below is a routed shape for an aluminum blank with a colorful printed message and is easily bolted to our best-selling Round Rod frame. The routed shape and colors set it apart from the competition and assist in an upscale branding opportunity.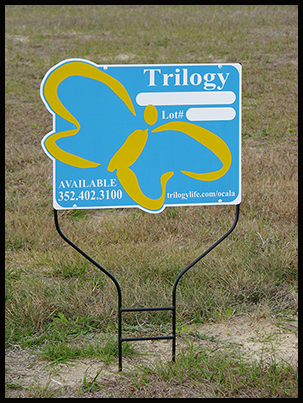 Our production team has the ability to follow your specifications and create your ideas bringing them to fruition for your program/campaign plans.
We excel in our own fabrication ideas too.
Often creating premium presentations with a special added twist or curl to the finished product. The attention to detail can elevate your message beyond the usual and get you noticed.
See our Ornamental series of items in our Slide-In style A-Frame, as well as Ornamental arms for your banner kit. The Scrolls and Spear Fancy H –Frame is also a Slide-In style H-frame with Half-moon tabs for easy sign install. There are a variety of ways to upgrade your message by adding a stylized frame or stake to improve your presentation.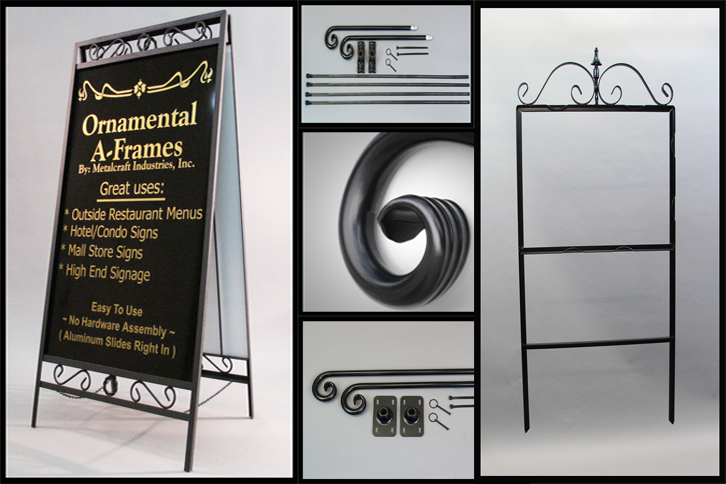 We offer versatility when it comes to one size fits all concepts…Here are some solutions for a 24 x 24 sign blank, with your printed message, by adding 14" holes on center to your 24" x 24" aluminum sign blank, the presentation options include; The Star Stake Kit, add your 24" x 24" sign to this Fluted pole and Designer Scroll Bracket (curved mount) the kit includes the Acorn finial and small Americana base for a complete presentation.(the Star Stake allows for easy install that can be used again on next location). The Designer Stake is an easy to install L-stake with added decorative accent. The H style frame in a 24 x 24" configuration offered in our Half-Moon tab design, the tabs allow for Slide-In application of your 24" x 24 " aluminum sign blank, no additional hardware needed for assembly.
Check out these images from a recent field trip around town, you can see there are many ideas that will assist in your endeavor to gain a good lead over your competition and advertise your message in a unique and appealing presentation.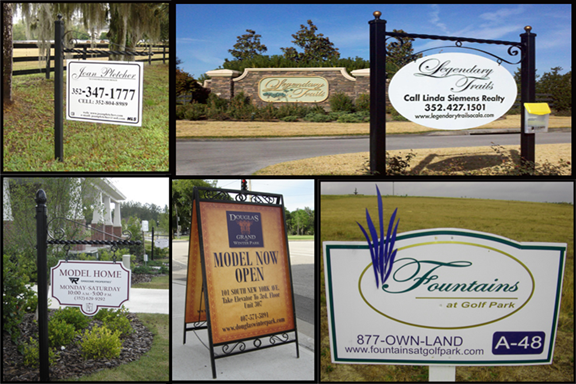 You can view many more ideas that will upgrade your presentation on our website...