We recently experienced some interest in the decorative design frames we had on display at a commercial and residential builder's show we attended last month.
Of particular note was the custom fabricated signage created from the sheets of architectural metal we had printed our logo colors and messaging upon and then wove them or slid them into the large frames we used as a backdrop for our product display.
Metalcraft Industries utilized this metal design presentation as a back drop to show case our wide variety of SIGN elements.
This included our architectural specialties in sign frames, sign stands, sign brackets and decorative street components.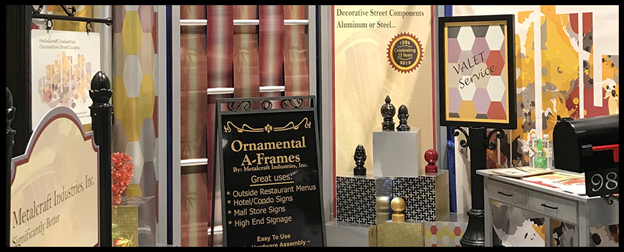 We would like to post some photos along with the original plan to scale and share with you the dynamics of the installation.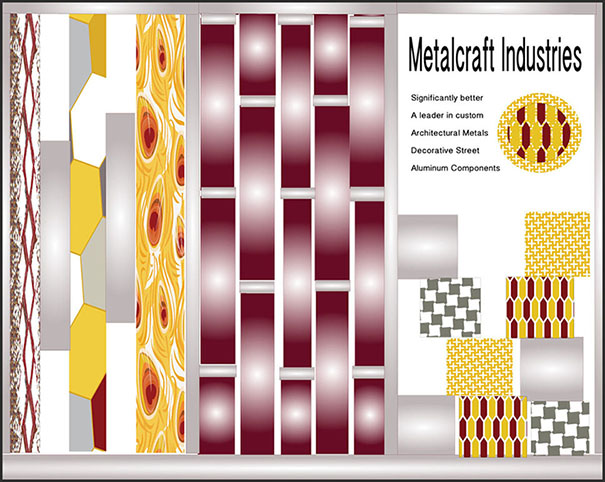 The frame on the right is constructed of lightweight aluminum and allows for the easy slide in of your printed materials. The presentation can be quickly changed out for upcoming events and holidays by removing the printed panel and replacing with an updated print. Prints can utilize branding as well as creative imagery of abstract or photo real creation.
The center frame is the woven metal presentation, a very popular piece at the show. It is an attention grabber and any photo real or created abstract does well with this installation. We see it being used for wall art, reception areas and an assortment of lobby locations as wall decor.
The far left represents the flexible and malleable shaping of the metal for column and curved wall architectural dynamics. Once again the print can range from abstract to photo real and with your created art files the colors, patterns and size can elevate the elements of a public or private space.
There were many comments received from interior designers in regards to installing the frames as self- standing and wall hanging art pieces for the hospitality (hotel, restaurant, and spa) and service industry (hospitals, medical, retail etc.).
We have been receiving follow up requests for customized similar presentations and thought we should reach out in our blog for the opportunity to review any specifications you may have regarding the size/dimensions of interest for your projects...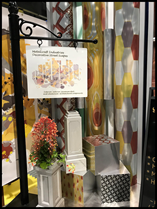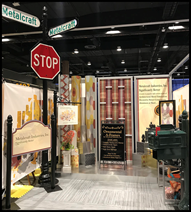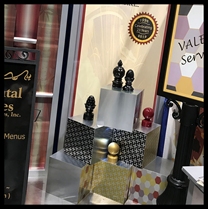 Please keep in mind we can work from your art files and color palette, creating a custom metalwork look for your design space.
We find the panels are lightweight transportable and easy to install.
We would be glad to work up a quote for your request, please contact us with the L x W x H and QTY of the panels.
For the art files we would require Adobe Illustrator files to size at time of order placement.
Please include a brief description of the art files with your quote request. (If you need assistance in creating the art files, we can also include an estimated time to create the files and include it in the quote.)
If you think of an idea and it would utilize these building design elements or perhaps any decorative components you may find on our website, please send us a quick sketch or drawing with some dimensions and we will be glad to quote the job for you.
Modifying and changing up our components is what we do best and what can make Metalcraft your go to manufacturer for all your customized sign supply needs.