Metalcraft's selection of pre-finished traffic sign blanks will make your community traffic signage project easier and more profitable.
Choose from a wide selection of .080 blanks, including mill finish, white or (POWDER COATED) black.
We offer D.O.T. approved high intensity prismatic-reflective vinyl and engineer grade reflective vinyl finishes for the FRONT SIDE of your roadway or community development traffic control and parking lot sign needs.
All of our blanks are available with or without reflective faces, allowing you flexibility to adapt these blanks to your project.
Each blank includes D.O.T. Standard 1.5" radius corners and two 3/8" mounting holes. Large traffic blanks measuring greater than than 24"H x 18"W include 2 holes located 3" from TOP and BOTTOM. Smaller traffic blanks measuring less than the 24"H x 18"W include 2 holes located 1 1/2" from TOP and BOTTOM.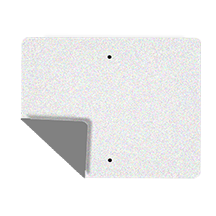 Custom hole placement and custom colors are available by calling us toll-free at (888) 609-3779, or contacting us via e-mail.